Quatorze is a non-profit organization based in Paris, France. Founded in 2007 by like-minded architecture students, the team develops, constructs, and promotes solidarity-based architecture for agile and resilient neighbourhoods. We weave education, inclusion, and a deep understanding of the urban ecosystem into each of our projects by way of a holistic approach to the built environment.
PLACES, CONNECTIONS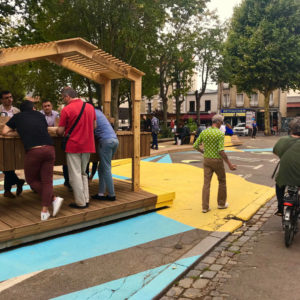 Our team develops co-design and co-construction methods to accompany each of our projects. We seek to include the greatest number of actors possible, especially the most fragile. Moreover, we aim to empower the volunteers and beneficiaries of our projects to become actors in their living environment. Quatorze is especially adept at working with communities dealing with urban precariousness by way of a gentle and incremental approach. Through experimentation, pedagogy, and concrete action, our resolve is to improve living conditions, enhance public space, and amplify social encounters. By taking an interest in both the social and spatial elements of local development, including their history, functioning, management, and appropriation, we can shape places that facilitate social interaction and long-lasting connections.
CO-DESIGN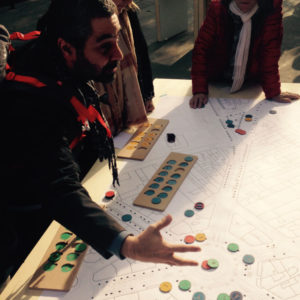 In the project development phase we favour co-design. Our team facilitates the sharing of feedback and experiences, and the organization of exploratory walks and hands-on workshops with the residents, organizations, volunteers, and students implicated in each project. These diagnostic tools allow for a more participatory, sensitive, and adaptive process in order to cultivate a comprehensive understanding of each urban environment. In parallel to our participatory approach, we also manage collaboration between sponsors, elected officials, technical services, and other experts and professionals. Co-design makes it possible to work for and with diverse stakeholders. Mediators as much as designers, we value both the social and spatial aspects of projected and inhabited spaces. Our projects reveal the collective intelligence of civil society by nourishing the concept of user expertise, by promoting open learning experiences, and in general, fostering an inclusive and participatory method to architecture and urban planning.
CO-CONSTRUCTION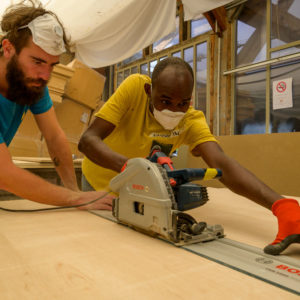 We privilege co-construction. We pass on our know-how by supervising workshops and building sites which are always open to the public. This approach promotes the exchange of practices and lifelong learning. Our multidisciplinary team and network of partners (non-profits, craftsmen and companies) allow us to supervise up to 20 students at the same time, who are covered by our insurance via a free membership within the association. As a designated training centre, our space includes an office and a pre-fabrication workshop, allowing us to work with participants to build their skills. We also facilitate lectures and discussions at architecture and urban planning schools on a regular basis, such as our involvement in the Eco-construction for Sustainable Development course at the Pierre and Marie Curie University in Paris.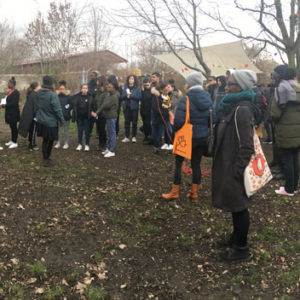 ANALYSIS
We explore living environments through the use of spatial and social diagnostic tools, in order to fully understand how they function.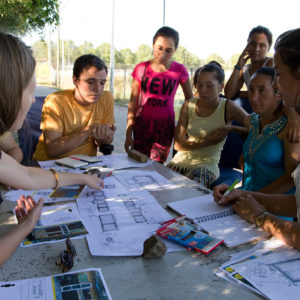 COMMUNITY MEDIATION
We collect stories in the field and enable the emergence of common visions. We are architect-mediators.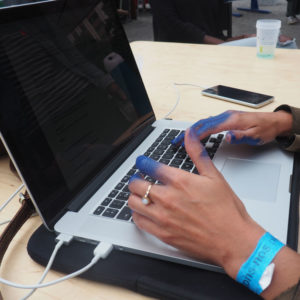 DESIGN
We translate beneficiaries' expectations into reality by ensuring technical and regulatory feasibility, while giving rise to a poetic urban development.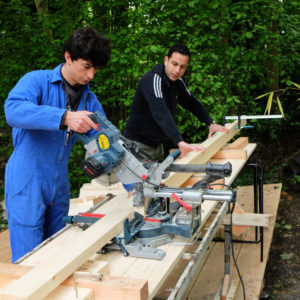 CONSTRUCTION
We encourage our team and those we are working with to have a real relationship with the material that constitutes the final project, whatever the scale – by manipulating it, by assembling it, and by understanding its properties.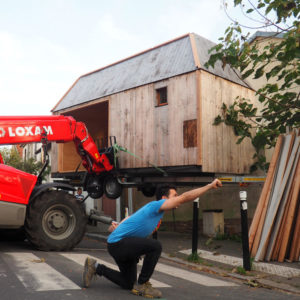 COORDINATION
We coordinate widespread unconditional welcome programmes promoting diversity and social inclusion with a compassionate multi-partner approach.
Modular homes for mixed, solidarity-based hosting

Activating a vacant place through solidarity tourism and hos...

Inclusive and incremental shantytown resorption and creation...

Le parvis Pasteur, upgrading a common space.